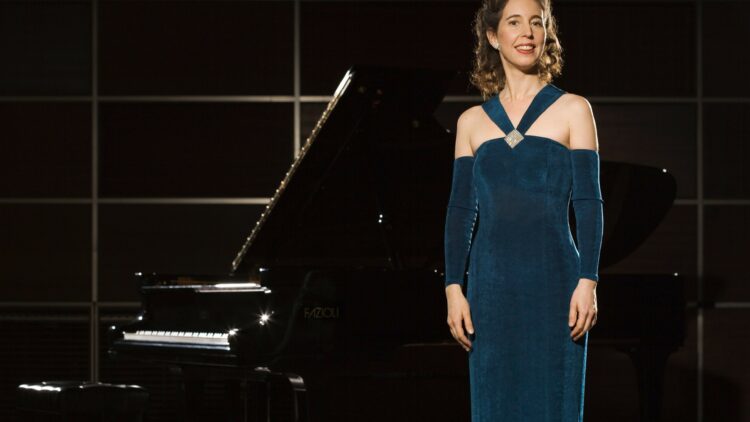 One of the world's leading pianists, Angela Hewitt appears in recital and with major orchestras throughout Europe, the Americas and Asia. Her interpretations of Bach have established her as one of the composer's foremost interpreters of our time.

Angela Hewitt's award-winning cycle for Hyperion Records of all the major keyboard works of Bach has been described as 'one of the record glories of our age' (The Sunday Times). Her much-awaited recording of Bach's Art of Fugue appeared in 2014, and immediately hit the charts in the UK and USA. Her discography also includes albums of Couperin, Rameau, Mozart, Beethoven, Chopin, Schumann, Liszt, Fauré, Debussy, Chabrier, Ravel, and Granados. With conductor Hannu Lintu she has recorded two albums of Mozart Piano Concertos (the most recent one with the National Arts Centre Orchestra won a Juno Award in Canada), the Schumann Piano Concerto with the DSO Berlin, and Messiaen's Turangalila Symphony with the Finnish Radio Symphony. New releases include her first disc of Scarlatti Sonatas, and her sixth volume of Beethoven Sonatas (including 'Les Adieux'). In 2016, Angela Hewitt was inducted into Gramophone Magazine's 'Hall of Fame' thanks to her popularity with music lovers around the world. Her second recording of Bach's Goldberg Variations was released in September 2016. Named 'Artist of the Year' at the 2006 Gramophone Awards, she was awarded an OBE in the Queen's Birthday Honours in the same year. In 2015 Angela was promoted to a Companion of the Order of Canada. She is a member of the Royal Society of Canada, has seven honorary doctorates, and is an Honorary Fellow of Peterhouse.
more about Camerata Musica
Camerata Musica Cambridge takes its name from the celebrated Florentine Camerata — or Camerata Fiorentina — founded in Florence in 1573 by a group of scholars and musicians to promote a revival in what was then defined as Classical music or 'musica antica' — the music and poetry of antiquity — with a view to bringing a new generation into contact with its riches.
Cambridge's Camerata Musica has a similar objective. It exists to bring new - and, in particular, student - audiences to classical music. It offers its audience the opportunity to hear some of the greatest masterpieces of the Western musical canon in performances by interpreters of international distinction. It is the only concert programme in the country that reserves more than half its seats for students and those under 25. These tickets are made available at generously subsidized prices.