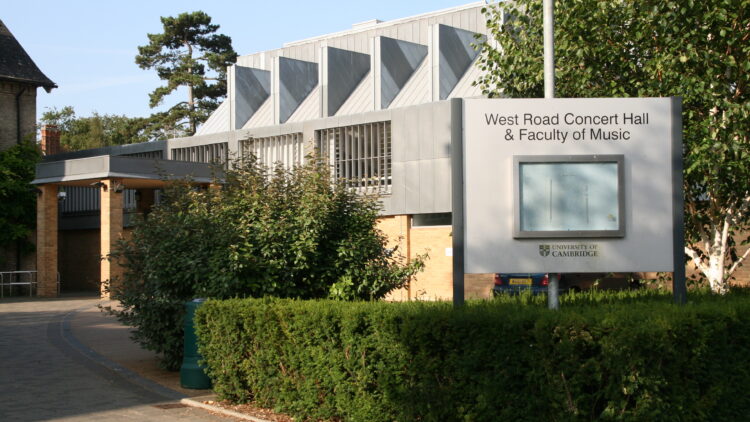 Booking information
West Road Concert Hall does not operate a box office. To book tickets for an event, please visit our What's On page and view booking details of the event you wish to book for.

Find us
Situated on the University's Sidgwick Site, only a few minutes' walk west of the famous Cambridge Backs and King's College, West Road Concert Hall is easily accessible on foot, by bike, on public transport, or by car. Our postal address is 11 West Road, Cambridge, CB3 9DP
Our bar is normally open 40 minutes before an evening event begins and during the interval. We serve bottled beers, wines and spirits, as well as soft drinks and a range of delicious ice creams from the award-winning Saffron Ice Cream Company.
The Concert Hall does not house a restaurant, but being only 15 minutes' walk away from the centre of town will give you countless options for pre-concert dining.
Harvey's Coffee House in the Harvey Court Building on West Road serves coffee and cake from 8:00am-5:00pm Monday – Friday and 10:00am-2:00pm on weekends.

There are also two cafés to choose from on the Sidgwick Site:

The ARC cafe in the Alison Richard Building provides hot food and snacks as well as cake and baked goods from 8:30am – 3.30pm, Monday – Friday. There is extensive, comfortable indoor seating and some outdoor seating and is located approximately 2 minutes' walk away from West Road Concert Hall.
The Buttery – towards Sidgwick Avenue – offers sandwiches, wraps, sausage rolls, soup, and hot drinks from 8.30am-3pm, Monday – Friday. The Buttery has indoor and outdoor seating and is located approximately 3 minutes' walk away from West Road Concert Hall.
Accessibility
The main entrance to the venue is step-free with a push button for automatic opening. The building has level access across the ground floor and the stage.
There are a number of accessbile parking bays on the Sidgwick Site, available on a non-reservable basis in the evenings and at weekends. You may also use the West Road car park for drop off and pick up.
Row D has level access and is most suitable for those with reduced mobility.
Three wheelchair spaces are available in Concert Hall (D19-21). Please contact the relevant box office provider to request a wheelchair space.
An induction loop is installed in the Concert Hall for those who are hard of hearing. Patrons in rows D-T can use the induction loop system by simply adjusting their hearing aid to the 'T' position. Please note that rows A-C and the East and West Balconies are not covered by the induction loop system.
An accessible toilet is available approximately 18 metres from the main seating area
Assistance dogs are welcome in the building